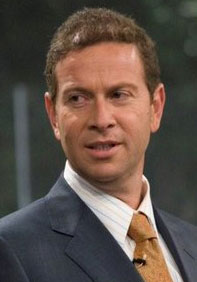 Raanan (Rani) Levy
CEO, Covenant Tours of Israel
Ra'anan Levy is a 13th generation native-born Israeli "Sabra" who has spent most of his adult life bringing the message of Israel and the Jewish people to the world. He is CEO of Covenant Tours, which was established in 1982 by his father, the late Colonel Yehuda Levy under the name Lion of Judah Tours. Today, a successful businessman and political analyst, Levy served for many years as an NCO in the Israel Defense Forces and participated in several of the army's campaigns (e.g. Lebanon War and Operation Defensive Shield).
Ra'anan Levy was candidate for Knesset, and served as an advisor to Prime Minister Ariel Sharon on World Jewish and World Christian Affairs.
Levy has been speaking in Synagogues, Churches and various media since 1988, continuing the lifetime journey begun by his father, former publisher and President of the Jerusalem Post, by speaking on behalf of Israel and presenting the numerous challenges this tiny country faces.
A firm believer in Israel's right to the land, Ra'anan Levy and his family have dedicated much of their resources and efforts in bringing the message of Israel to both Jewish and Christian Zionist communities throughout the world.
In 2004, Levy, who through "Covenant Tours of Israel" brought hundreds of tour groups to Israel, founded the Israel La'ad (Israel Eternal) foundation which sponsors several welfare and relief programs for immigrants to Israel and youth at risk and operates a large food delivery project in several locations in Israel to assist the needy.
Ra'anan Levy is the author of a new book entitled, "Land for Peace: a Century of Failure", released in February 2010.
He is married and the father of four children. He and his family reside in the south of Israel.

Back to Top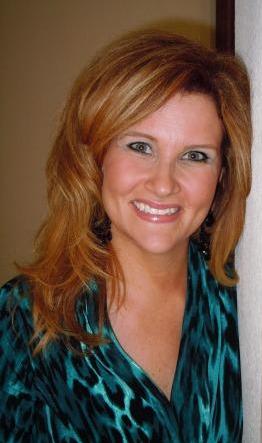 Julie Sironi

Julie Sironi has made multiple visits to Israel in the past 20 years. Overwhelmed with the spiritual and educational impact it had on her, her family and her friends, she decided to become active in leading and planning tours Israel. Julie's passion for Israel and its people began to grow more and more. In 2008, Julie travelled with Covenant-Tours, and discovered the ultimate, in tour planning, teaching and logistics - in Israel. Soon after, Julie became a Partner in Covenant-Tours.
"The most amazing part of visiting Israel, was not only seing how the Bible came to life in front of me. I was overwhelmed with how friendly the Israelis are, and how SAFE it is to travel in Israel, everywhere, despite of what most people think". - Says Julie.
Julie graduated from Taylor University in Upland, Indiana with a BA in Psychology and earned her Masters Degree in Counseling from University of Wisconsin- Whitewater. She lives in Fort Worth, Texas with her husband and two children.

Back to Top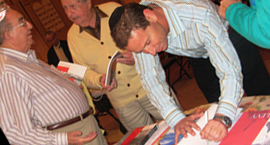 CEO Raanan (Rani) Levy,
signing his newly released book,
"Land for Peace: A Century of Failure".
" The best part about working with you is that you tailor our trip to what we want to see. You always consult with us to ensure that our tours are filled with visits to various biblical sites that help inspire and strengthen our faith. We love being led through the footsteps of Jesus, Moses, and Israel's prophets and kings."
Pastor Mac Hammond
Living World Christian Center